OUR MISSION
To Know Christ, and to Make Christ Known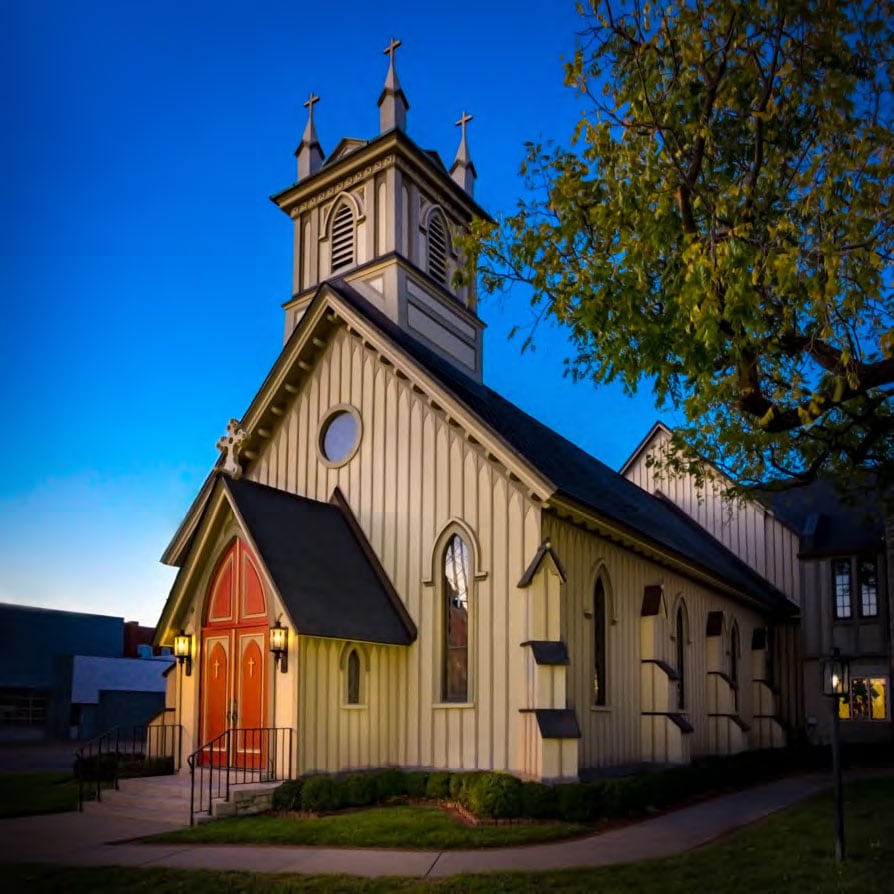 UPCOMING SPECIAL WORSHIP SERVICES
Ash Wednesday, February 26 at noon and 7 p.m., Children's service at 5:30 p.m., Rite I Holy Eucharist.
The Annunciation of our Lord Jesus Christ to the Blessed Virgin Mary, March 25 at 5:30 p.m.
REGULAR WORSHIP SCHEDULE
Our regular worship schedule is as follows:
Sunday mornings at 8 a.m. Rite I Spoken Holy Eucharist, and 10 a.m. Rite II Holy Eucharist with children and adult choirs.
Sunday mornings at 9:10 a.m. Adult and Children's Christian Education (Sunday School).
Thursday evenings at 5:30 p.m. Holy Eucharist, with healing service the last Thursday of the month.
601 East Walnut Street
Springfield, Missouri
CHRIST CHURCH WELCOMES YOU
Christ Episcopal Church Welcomes All People.
We welcome you to participate fully in worship, fellowship, and service opportunities – regardless of your race, age, sex, national origin, marital or family status, disability, sexual orientation, gender identity, socioeconomic status, level of education, religious background, or political viewpoint. Regardless of your background or identity, we believe that you are made in the image of God, and we are excited to welcome you to Christ Episcopal Church.
Lenten Quiet Morning With The Rt. Rev. Alan Scarfe: The Rt. Rev. Alan Scarfe, Bishop of the Diocese of Iowa, will lead a Lenten Quiet Morning at Christ Church on February 29 at 9 a.m. in the parish hall. Bishop Alan will deliver three short talks on the theme, "Finding the Simple Way." There will also be time for reflection and prayer. All are welcome to attend.
Adult Forum: This week, The Rt. Rev. Alan Scarfe will lead our adult forum discussion. We will meet in the parish hall beginning at 9 a.m. Next Sunday we will begin our book series "The Color of Compromise" by which explores the African-American experience in America, and our response. We will meet in the parish hall beginning at 9 a.m. You may purchase a copy on Amazon, and we will have a few copies in the church office.
Quiet Fridays in Lent: Every Friday in Lent, starting on February 28, the nave at Christ Church will be open from noon to 1 p.m. for those who would like to come into the church during this penitential season for a time of quiet contemplation and meditation.
Lenten Wednesdays: Beginning on March 4, and continuing each Wednesday through April 1, there will be evening prayer at 5:30 p.m., followed by a soup supper and Lenten activities. If you would like to read for evening prayer, or bring soup/bread to the Lenten Soup Suppers, sign-up sheets will soon be posted on the bulletin board at the end of the hallway past the church offices.
Agape Meal: On April 1 we will hold An Agape Meal with Martha and Mary. We will begin with evening prayer at 5:30 p.m. in the church, followed by a liturgical meal in the parish hall as we commemorate the love Jesus shared with these two devoted disciples. All are welcome and encouraged to attend as we prepare for Holy Week and share in the breaking of bread with one another.
Daylight Saving Time will take place next Sunday, March 8 at 2 a.m. Be sure to set your clocks one hour ahead the night before.
Second Sunday Brunch will take place on Sunday, March 8 after the 10 a.m. service. All are invited to join us for food and fellowship in the parish hall.
The Next Ultreya and Cursillo Gathering will be held Christ Church on March 8 at 3 p.m. Please join us for worship, songs and fellowship, and bring finger foods and snacks.
The next Vinton lunch and meeting will be held Tuesday, March 10. All adults are welcome! This month, we will take part in a Lenten holy communion service. We will meet at 11:30 a.m. with lunch served at approximately 12:30 p.m. The cost of lunch is $10. RSVPs are a must. Please RSVP to the front office at 866-5133 or email frontoffice@christepsicopalchurch.com.
The next Card Ministry meeting is scheduled for Thursday, March 19 at 6:30 p.m. This month we will meet at the home of Mary Kay and Kenny RossWe will be sending cards to members for celebrations, illness, and other needs. If you would like to be a part of this ministry, please contact the church office at 866-5133 or email frontoffice@christepiscopalchurch.com.
Bishop's Day will be held at Christ Church on Saturday, March 21. This event is essential for those who are new in their role as rector, vicar, a priest in charge, or interim; all new and returning vestry and bishop's committee members; church administrators, and anyone interested in church leadership. Click here to register for Bishop's Day.
Rare Breed has several openings to fill for the 2020 schedule which includes entrees, side dishes, milk, and fruit. Each month, volunteers from Christ Episcopal provide a hearty, healthy meal for approximately 30-40 teens at Rare Breed. If you would like to volunteer to bring any of the food listed above or would like to learn more please click here. 
Bissett Cents of Pride: Our next store day for Bissett will be held on Thursday, March 26 from 8 a.m. to 1 p.m. We could use two to three volunteers to help run the store. We could also use your help stocking the Bissett Cents of Pride store. For questions or more information, contact the church office at 866-5133.
Safe to Sleep:Thanks once again to our group of volunteers and blanket washers! Special needs this month are gloves, rain ponchos, razors, brushes & combs, cleaning rags or old towels, and always needed are backpacks, small rolling suitcases, and volunteers. Urgently needed are large bottles of hair conditioner and travel size toothpaste. Thanks so much for your generosity to the ladies who shelter each night at Safe to Sleep. For more information, please contact the church office at 866-5133.
Altar Flowers: We are currently taking reservations for altar flowers for March through December 2020. If you have a date you would like to reserve, please contact the church office at 866-5133 or email frontoffice@christepiscopalchurch.com. Reservations are on a first-come, first serve basis. Altar flowers are $48.00, and upon request, you are more than welcome to split the cost and share a date with another parishioner.
The Diocese of West Missouri
The Right Rev. Martin S. Field, Bishop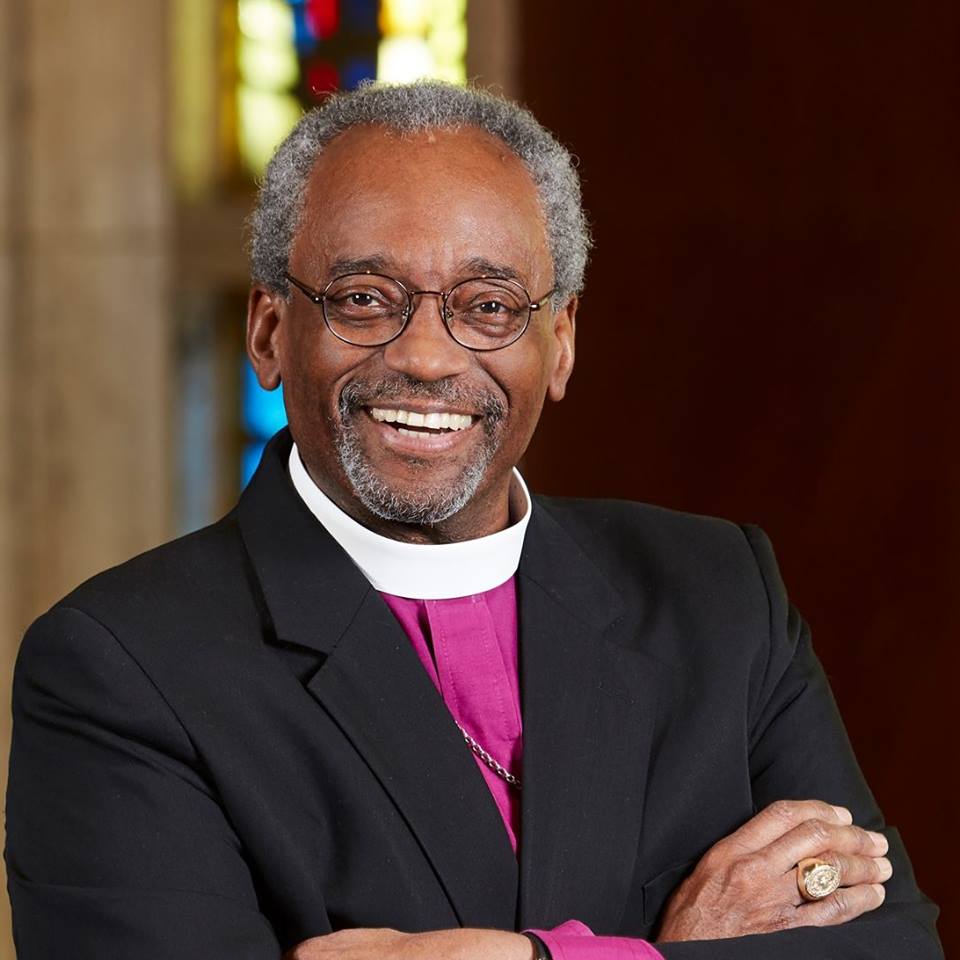 The Episcopal Church
The Most Rev. Michael B. Curry, Presiding Bishop