OUR MISSION
To Know Christ, and to Make Christ Known
Where to Watch Services and Evening Prayer
Every evening for the next week, we will have an Evening Prayer service on our Facebook page. You do not need a Facebook account to watch the live stream. Please join us on Facebook to follow along in Evening Prayer.
Our Sunday Worship Services are available on our YouTube Channel. They will also be posted to our Facebook page and below on our website for you to watch at any time.
OUR RESPONSE TO COVID-19 AND OTHER NEWS
Check here for our latest updates to the ongoing COVID-19 virus and other important church related news.
Christ Church Reopens
Dear People of Christ Episcopal Church:
Bishop Field has given us approval to reopen Christ Church for worship. Our first services will be on Saturday, June 27 at 6:30 p.m., and Sunday, June 28, at 10 a.m.
We have a limited capacity of 35 for seating. We ask that you please reserve a seat ahead of time by visiting this link and picking your service date and time, and how many of you family will attend.
You may also call the church office at 417-866-5133 or 417-298-2185 (text preferred) and we will reserve a spot for you if we have openings.
Below are guidelines for you to follow when attending in-person worship. You may view the full reopening plan by clicking here.
WHEN IN-PERSON WORSHIP RESUMES
● Limited seating will be available in the nave
● Those desiring to attend must reserve a place by visiting [reopen.church/r/Zkst53kb] and completing the online form or by contacting the church office
● Weekly Spiritual Communion services will continue to be posted and offered on the church's social media sites
● Live Evening Prayer services will also continue to be offered on the church's Facebook page
PLEASE STAY HOME IF
● You fall into a high-risk category (see link here) and you, in consultation with your doctor, determine that it is unsafe to attend in-person worship
● You have a cough, fever, or are feeling sick
● You suspect you might have contracted COVID-19 or have been exposed to someone who has
● You feel uncomfortable returning to in-person worship
….and please join us in online worship
ATTENDEE GUIDELINES
● Masks or face coverings must be worn (except for children under the age of two)
● Temperature checks will be taken upon entry into the building
● Members with a temperature above 100.3 will be asked to return home
● Sanitize hands when entering the building and prior to receiving communion
● Maintain physical distancing of at least six feet outside of family units
● Do not congregate for fellowship inside the building, and when outside maintain proper distancing
DURING THE SERVICE
● No congregational singing
● Bathrooms will be closed except for emergencies, and water fountains have been disabled
● Child care will not be available, but children are welcome to sit with their families in the worship space
● Physical contact outside of family units during the passing of the Peace and at other times is prohibited
HOLY COMMUNION
● Will be offered in one-kind only (bread)
● Follow the directions of the ushers to approach and receive
● All participants, including the clergy, will wear masks or face coverings during communion
● After receiving the host, return to the seats before pulling down the mask to consume
● At the conclusion of the service, please exit the church when dismissed by the ushers
PARISH RESOURCES
● Facebook: facebook.com/christepiscopalchurchmo
● YouTube: youtube.com/user/CECSpringfield
● Email: frontoffice@christepiscopalchurch.com
● Telephone: 417.866.5133
A Letter From Bishop Field
Dear fellow laborers,
The last several days have seen an unexpected shift in our focus on national events. COVID-19 is still with us, but a far older dilemma has returned to the headlines, a dilemma that has been rightly called "America's original sin." In some ways it should have been expected (see my statement from two days ago). Sad as the situation is, I am heartened to see that the issues of racism, police violence against people of color, inattention on the part of government leaders, and more has been pushed to the fore.
While I wish the attention now drawn could have come about without violence or harm to anyone, I nevertheless believe this is a moment when we, the leaders of the Church who have a voice that at least some will hear and heed, have a moral obligation, right now, to speak out on:
systemic and personal racism,
the misuse of power and authority in government,
the devaluation of people who differ from the majority or from "my people",
the denial of the personal dignity and worth of a child of God,
the lies called "white supremacy" or "white exceptionalism",
the commoditization of the poor and people of color,
the xenophobia exhibited toward those from different cultures and language groups,
, etc., etc.
In short, it is time for to witness to the Church's teaching on the oneness of all who are created in the Creator's image, the need for justice, the need to appreciate the gifts diversity brings, and many other aspects of the issue we label "racism".
Therefore, amidst the turmoil now spread across our land, I call on all members of the clergy in West Missouri to write, preach, teach, and speak to the parishes and congregations you lead and to share powerfully the Church's understanding of the dignity of all human beings and how racism, in any form, steals that dignity from others. Please make this a powerful and prominent aspect of your preaching and teaching in the days to come. If we do not use our voices and sustain our voices – if we lapse back into silence or complacency – we will be aiding and abetting a grievous sin that stains he soul of our nation and all of humanity.
Furthermore, a special obligation is laid on those of us who have accepted ordination and made sacred vows before God to – as the old language said – "attend to the cure of souls". Remember the story of Eli, the priest of the Lord under whom the great priest and prophet Samuel apprenticed: 1 Samuel 3:10ff — "Now the Lord came and stood there, calling as before, "Samuel! Samuel!" And Samuel said, "Speak, for your servant is listening." Then the Lord said to Samuel, "See, I am about to do something in Israel that will make both ears of anyone who hears of it tingle. On that day I will fulfill against Eli all that I have spoken concerning his house, from beginning to end. For I have told him that I am about to punish his house forever, for the iniquity that he knew, because his sons were blaspheming God, and he did not restrain them. Therefore I swear to the house of Eli that the iniquity of Eli's house shall not be expiated by sacrifice or offering forever."
This passage and my own inaction send a chill up my spine. If I see sin that I know to be sin and do not speak against it nor try to correct the sinner, a weight of sin then drops on me, one that only the responsible would bear who neglect their responsibilities.
Therefore, I enjoin you to speak, teach, preach. Take on the sin of racism head on. I will do the same. The time is propitious. The responsibility is ours.
And may God be with you in this ministry.
Bishop Marty
Christ Episcopal Church Service Videos
You will find our most recent video here each week for those who would like to watch from the safety and comfort of their home. You can view all of our videos on our YouTube Channel by clicking here.
If you don't have a prayer book but would like to follow along, please click here.
The financial responsibilities and obligations of the church are still present during this crisis. Aside from mailing in pledge envelopes and checks, here are several ways in which you can continue to give.
Text the dollar amount you would like to give ($x.xx) to 1 (417) 815-5833 to make a one-time donation (smartphone only).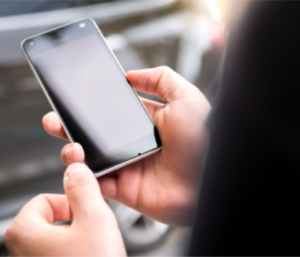 Download the "EasyTithe Giving" App from the Google Play or Apple Store. With this app, you can make a one-time donation or a recurring donation. Our church is Christ Episcopal Church, and the zip code is 65806-2419 (must be exact). Some members have reported issues with this app on iOS (Apple phones).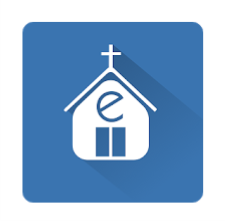 Donating online is both simple and secure using our easyTithe portal. From this portal, you can make a one-time donation, or create an account to set up a recurring donation. For questions on how you can give, please contact our Parish Administrator, Sheila McGinn, at 866-5133 or sheila@christepiscopalchurch.com.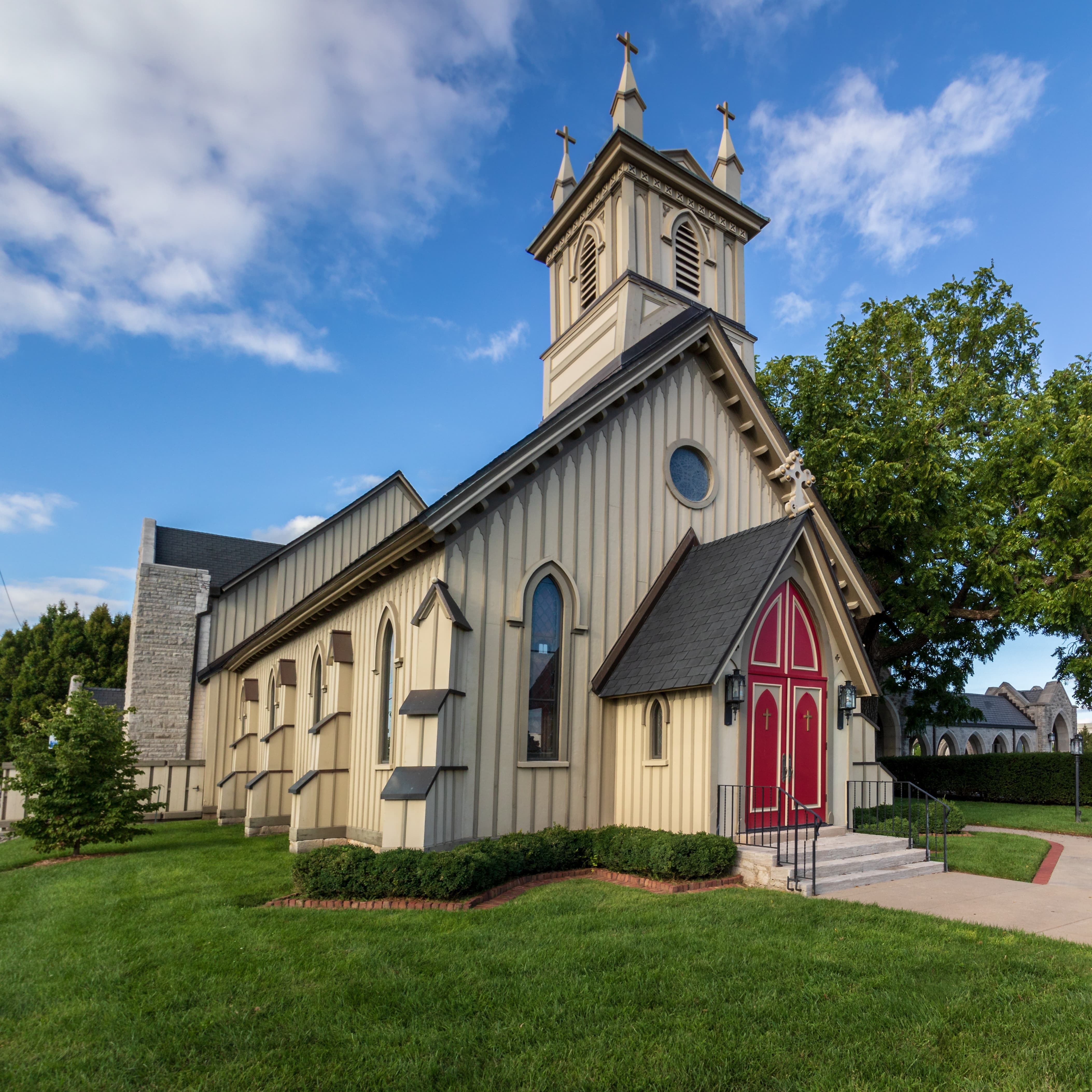 REGULAR VIRTUAL WORSHIP SCHEDULE
Evening Prayer: Each evening at 5:30 p.m. live on our Facebook page.
Holy Eucharist/Ante-Communion: Each Sunday at 10 a.m. on YouTube, Facebook, and here on our homepage.
601 East Walnut Street
Springfield, Missouri
CHRIST CHURCH WELCOMES YOU
Christ Episcopal Church Welcomes All People.
We welcome you to participate fully in worship, fellowship, and service opportunities – regardless of your race, age, sex, national origin, marital or family status, disability, sexual orientation, gender identity, socioeconomic status, level of education, religious background, or political viewpoint. Regardless of your background or identity, we believe that you are made in the image of God, and we are excited to welcome you to Christ Episcopal Church.
UPCOMING SPECIAL EVENTS
Please note that as of right now all upcoming special events are currently canceled until further notice.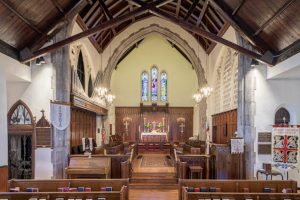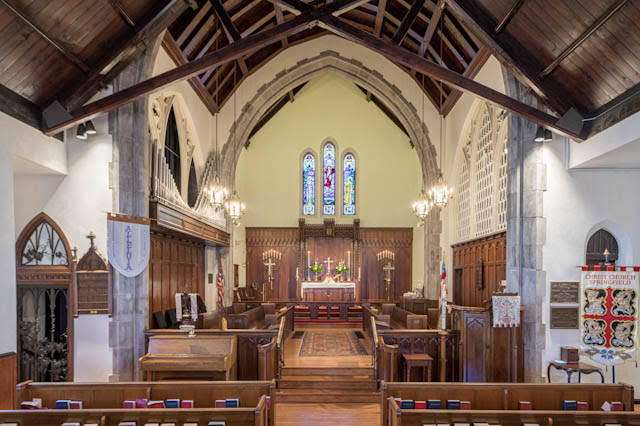 In-Person Worship
Sunday at 10 a.m. Reserve a seat by clicking this link: https://reopen.church/r/Zkst53kb. You may also call the church office at 866-5133 or 417-298-2185. Temperature checks will be administered, and masks are required for worship. For more information, please visit our website at ChristEpiscopalChurch.com. You can also download the in-person worship bulletin at https://christepiscopalchurch.com/bulletins/ and will find it at the bottom of the page.
Cross for Your Home: A few of our members have asked for a picture of the altar cross for in-home worship. If you would like a high-resolution photo of it to download or print, you can do so through dropbox at https://www.dropbox.com/s/54ifqvfcfgcr7se/CEC_Cross_HR.jpg?dl=0.
Thank you to Dr. Allin Sorenson for his amazing photography. If you would like to see more of his photos visit https://allinsorenson.myportfolio.com/galleries.
Virtual Worship
Sunday Ante-Communion Services, Posted each Saturday evening at 7 p.m. to our YouTube channel, Facebook page, and website.
Evening Prayer, live each evening at 5:30 p.m. on our Facebook page.
The Next to New Shop is now open and accepting donations Tues-Fri from 12-6 p.m. and Sat 10-4 p.m. We are not taking consignments at this time and therefore eager to help you donate your "next-to-new" items to the
shop. We accept them on hangars, in boxes, in bags to make donating easy for you. We are particularly in need of summer wear. Thank you for keeping this not-for-profit outreach of Christ Church in mind as you clean out your closets.
Podcasts have returned: If you would like to listen to the Sunday services, you can do so through Player FM, iTunes, or Google Podcasts.
Virtual Coffee Hour: We invite you to join us at 9 a.m. each Sunday for a virtual coffee hour. By popular request, we have switched to GoToMeeting for the coffee hour. This should help those of you who may have connection troubles. To join, please click this link https://global.gotomeeting.com/join/606727653 or call (Toll-Free) 1-866 899-4679 and dial-in access code 606-727-653. Please note that this link and phone number will not work until 9 a.m. Sunday Morning.
Safe to Sleep Update: Good news! The shelter has reopened with space for 20 pre-approved ladies. Each guest will be temperature checked before entering the shelter. Masks will be required, along with several other precautionary measures. To date, none of the ladies who were formerly housed in hotels have contracted the virus! Several of you have continued to support StS during this time either with financial donations, meals, or supplies. Thank you! Now that the shelter has reopened, it is in need of antibacterial cleaning spray, wipes, and counter wipes, large bottles of conditioner and dish soap, travel size toothpaste, deodorant, and tissues, sewing kits, nail clippers, small rolling suitcases, backpacks, and duffle bags. The shelter is also moving to a new operational model with a paid staff member on duty each night along with one volunteer, instead of the former two volunteers. Even with this, volunteers are still quite needed! Please contact me if you are interested in learning more about this very rewarding and important outreach of the Council of Churches.   Jane Mellers (janem27442@aol.com or 417-861-2443)
Adult Forum: We are currently looking for a new time slot for the Adult Forum since we will resume in-person worship at 10 a.m. on Sunday. Stay tuned for updates.
Rare Breed will continue to distribute sack lunches through July and August. Suggestions are as follows: single-serve/ pop-top entrees – canned chicken, canned tuna, microwave pasta, yogurt, Vienna sausage, single-serve tuna with crackers; soft granola bars, fruit cups, fresh fruit, trail mix, ramen noodles, chips, drinks – anything besides water, and any creative idea you come up with. If possible, please try and avoid peanut butter & Jelly (least favorite).
Sewing Guild Update: The Christ Church Sewing Guild has delivered over 11,000 masks to the community. More donations of cloth and monetary donations would also be appreciated and would be used to purchase more supplies. If you would like to donate supplies, please call the church office at 417-298-2185 or email frontoffice@christepisocpalchurch.com and let us know ahead of time. If you would like to make a donation, please make a check to Christ Episcopal Church with Sewing Guild in the memo line.
Reaching the Church Office: You may contact the church office a (417) 866-5133 and leave a voicemail. If no one is available, you can also reach the office by calling (417) 298-2185.
Giving: The needs of the church are still present. If you would like to give, you may continue to send in your pledge envelopes or checks. On our website, you can give online easily through our EasyTithe Giving App, via text message, or by using our easyTithe web portal. These can be found on our homepage or at https://christepiscopalchurch.com/give/.
GoToMeeting: We now have a business-grade GoToMeeting account. GoToMeeting allows anyone to connect to a virtual conference room via smartphone, tablet, PC, Mac, and even landline phone, toll-free. If this is something that you would be interested in using for a meeting, please contact the church office at (417) 298-2185 or email frontoffice@christepisocpalchurch.com.
Email Blasts: If you are not signed up for our email blasts, please do so. Contact the church office at 866-5133 or (417) 298-2185, or email frontoffice@christepiscopalchurch.com. If you have signed up, but are no longer receiving our emails, your email provider might have auto flagged us as spam. Contact us by phone or email and we might be able to help.
Follow the Greene County Health Department: We highly encourage you to visit their website at https://www.springfieldmo.gov/2853/Health. You can also follow them on social media.
Readings for Next Sunday, The Sixth Sunday after Pentecost: Sunday, July 12, 2020
The Diocese of West Missouri
The Right Rev. Martin S. Field, Bishop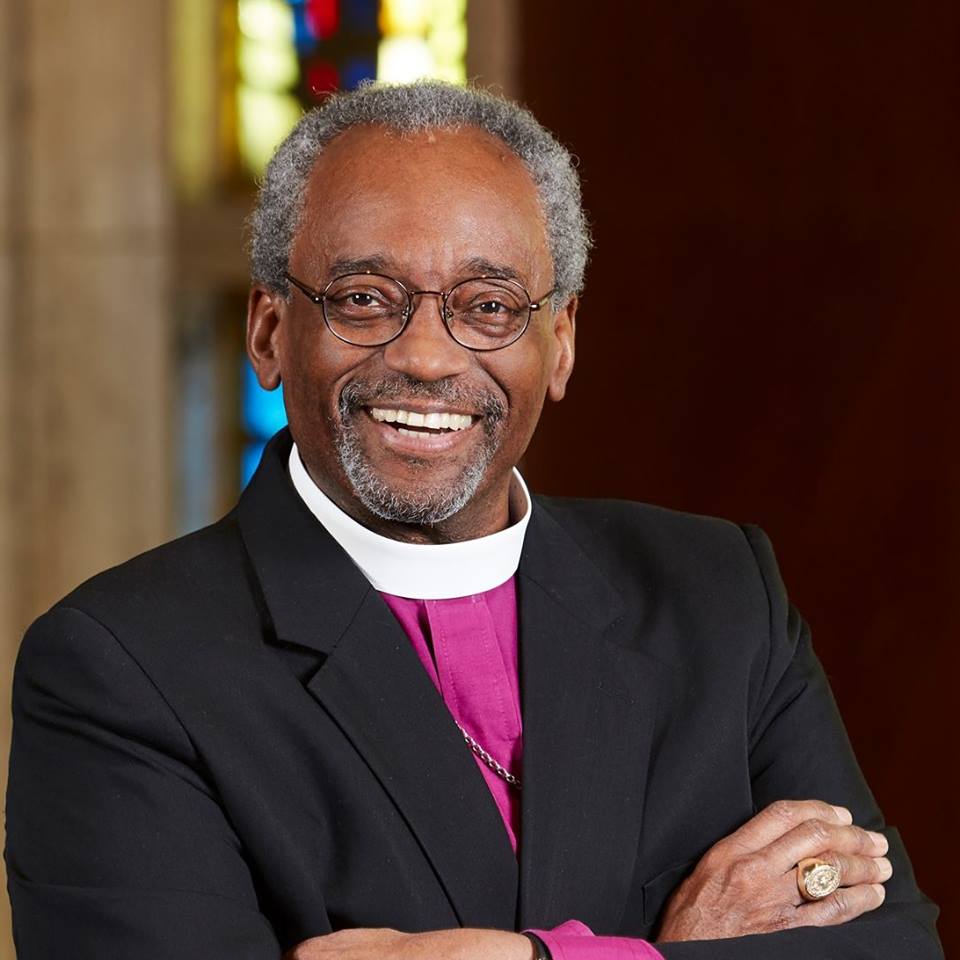 The Episcopal Church
The Most Rev. Michael B. Curry, Presiding Bishop