Stay In the Know.
Keep up-to-date with news from Christ Episcopal Church, the Diocese of West Missouri, and the larger church in the nation and the world.  Here you will find newsletters, sermons, and other resources to stay current with the church.
CHILDREN'S SUNDAY SCHOOL, CUB SCOUTS
Currently, we are needing some Sunday school teachers for the 2018-2019 year. If you can teach once a month, for one semester, or for the entire year, we would love to have you join us! Sunday school will meet from 9:10-9:50 a.m. each week. Our success depends on you! Let's make it a great year for all the fabulous children of Christ Church!
During the Adult Forum on Sunday, August 19, we will be having a parish-wide Sunday school event at 9:10 a.m. We will be doing a lesson from the GenOn Ministries' program, Sunday LIFT (Living in Faith Together) called "Breakfast with Jesus." As you might imagine, breakfast will be served. This program includes eating together, reading scripture, playing a game, and having prayer together. It is really, really neat and we hope many of you will come. We think you will really like the structure and content of the program. It is great for children, youth, and adults of all ages.
The Boy Scouts of America organization is transitioning to family scouting. Girls are now admitted to the cub scouts. Pack 5, which meets at 6:30 on Mondays at CEC, is proud to be one of the first packs in Springfield to offer family scouting. If your son or daughter is in grades K-5 and is interested in being involved in scouting, the first official meeting of the year will be on August 20.
And lastly, there will be a Children's Formation Team meeting on August 22 at 6 p.m. with dinner provided. Please note that this is the same time as acolyte training, so it will be an opportunity for parents to meet with the Formation team while their children are in training! If you plan to teach or want to be involved in any other way, please plan to attend!
For any and all questions or concerns related to children's Sunday school or cub scouts, please contact Mary Bohlen, Director of Christian Formation for Children and Families, at maryb@christepiscopalchurch.com.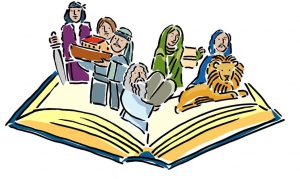 BISSETT ELEMENTARY AND ONESOLEPURPOSE
School is just around the corner, and Christ Church has joyfully accepted the responsibility to provide one pair of new shoes for each child at Bissett Elementary School. Christ Church has supported Onesolepurpose and the children of Bissett Elementary for over 10 years. Please be generous and donate to Onesolepurpose, maybe in honor of your children or grandchildren. $26.00 buys one pair of shoes for a child. If you would like to donate to this great cause, please write your check to Onesolepurpose and put Bissett in the memo line.
On September 26-27, we will need volunteers to help measure the shoe sizes for the children of Bissett. On October 17-18, we will be distributing the shoes. If you have questions, please contact the front office at 417-866-5133 or frontoffice@christepiscopalchurch.com.
The Vinton Program for the 2018-2019 year will resume on Tuesday, September 11, at 11:30 a.m. This month, our very own Christ Church organist, Catherine Wong (Masters in Music from MSU) will be performing various piano selections.
Vinton Programs begin at 11:30 a.m. in the Parish Hall with a buffet lunch (from The Traveling Chef), followed by our program (unless noted). All adults are welcome! The cost for lunch is $10.00 and the correct amount is always appreciated. Reservations are a must; we must have a head count to plan for lunch. Once an RSVP is received, your $10.00 per person is still due. You will normally be called, so please RSVP.  If you do not receive an RSVP call, please contact the front office at 417-866-5133.
Our Schedule for the 2018-2019 year is as follows:
September 11: Piano selections by Catherine Wong, Masters in Music from MSU, Christ Church Organist
October 9:  "Pioneer Churches of Springfield," Paul W. Bass
November 13:  "Partners at the Piano," Barbara Hays (former Organist) and Millie Peterson, Christ Church Members
December TBA:  Drury University Choir, Dr. Jim Davidson, Director of Choral Activities
January 8:  "Musical Pickers," from Switzer Methodist Church
February 12:  MSU William White String Quartet, Dr. David Hays, Director
March 12: 11:30 a.m. Lenten Holy Communion (Note:  lunch will be served approximately 12:30 p.m.)
April 9: Musical Excerpts from "The Secret Garden," Lorianne Dunn, Production Director, Springfield Little Theatre (Note: the program will begin at 11:30 a.m., with lunch following)
May 14: Musical selections from Broadway, Sacred and Secular, by our own Christ Church members, Kristie Ohlemeier, St. Gregory Choir and accompanied by Bob Johnson
Links To Episcopal Resources To Aid With Worship
Bible Gateway: A useful site to quickly search the bible in multiple translations. We commonly use the New Revised Standard Version (NRSV).
The Lectionary Page: This website allows you to view the Episcopal Liturgical Calendar, and has links to lessons for Sundays and Holy Days.
The Book of Common Prayer Online: This resource allows you to view the Book of Common Prayer online in its entirety.
Links to Episcopal Education
The Episcopal Church: The official page for the Episcopal Church. A great resource to learn about the church as a whole.
Education For Ministry: A four-year distance learning certificate program through Sewanee: The University of the South.
Forward Movement: This site offers books and other media for Christian education.
THE DIOCESE OF WEST MISSOURI
Links To Information About The Diocese of West Missouri
The Diocese of West Missouri: The official homepage of The Diocese of West Missouri.
Map of Episcopal Churches: A map showing the locations of churches within the Diocese of West Missouri.
eSpirit: The electronic newsletter of The Diocese of West Missouri; it provides a short and easy to read digest of up-to-the-minute news, events, and general information. It is emailed twice monthly.
Spirit: Another newsletter of The Diocese of West Missouri; it features longer articles which explore and reflect on the interests of Episcopalians in West Missouri. It includes more detailed reporting on news and events and is emailed quarterly.