Stay In the Know.
Keep up-to-date with news from Christ Episcopal Church, the Diocese of West Missouri, and the larger church in the nation and the world.  Here you will find newsletters, sermons, and other resources to stay current with the church.
The Outreach Committee will host our Spring Community Dinner on Thursday, May 23 at 5:00 p.m. We will need volunteers to assist with the dinner and make dessert bars, cookies, and bring fresh fruit for our guests. There are signup sheets on the bulletin board in the hallway past the church office. If you are unable to work and would like to donate for the cost of the meal, you may place a check in the offering plate with "Spring Community Dinner" on the memo line. If you have any questions please contact Henry Foster, Outreach Committee Chairman by email at hmbfoster@att.net or call 573-719-9937.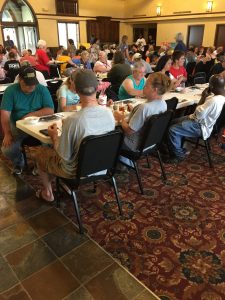 During the summer months of June, July, and August, the Adult Forum will read and discuss several books. In June, we will read and discuss C.S. Lewis' book "Mere Christianity." In July, we will read and discuss Gilbert Keith Chesterton's book "Orthodoxy." In August, we will read and discuss John Bunyan's book "The Pilgrim's Progress." Please click the links above to purchase the books from Amazon, or use your favorite book store or website.
In the classic Mere Christianity, C.S. Lewis, the most important writer of the 20th century, explores the common ground upon which all of those of Christian faith stand together. Bringing together Lewis' legendary broadcast talks during World War Two from his three previous books The Case for Christianity, Christian Behavior, and Beyond Personality, Mere Christianity provides an unequaled opportunity for believers and nonbelievers alike to hear this powerful apologetic for the Christian faith.
Standing six foot, four inches tall, and weighing 21 stone, GK Chesterton was a man of striking appearance, and all the more so for his chosen uniform of cape, large hat, swordstick, and cigar. A prolific writer, he regarded himself primarily as a journalist, but he also wrote poetry, philosophy, biography, detective fiction, Christian apologetics - and fantasy.
For as he once said: 'Fairy tales are more than true: not because they tell us dragons exist, but because they tell us dragons can be beaten.' Fascinated by the occult in his youth, Christianity played an increasingly important part in his life, and he wrote the biography of St Francis of Assisi in 1922, shortly after converting to Roman Catholicism.
His choice of clothes revealed a man who liked attention; but he also displayed great reserves of will power, which he directed towards his chosen goals. Using paradox and laughter as weapons - he was called the 'Prince of Paradox' by Time magazine - his writing was a constant assault on complacent acceptance of conventional views. He rallied against the dark side of English imperialism; and with his friend Hilaire Belloc, he promoted the social system of 'distributism', which called for a greater sharing of wealth. When The Times newspaper asked various leading figures of the day to say what was wrong with the world, Chesterton simply replied: 'Dear Sirs, I am. Sincerely yours, GK Chesterton.'
Orthodoxy, first published in 1908, is Chesterton's spiritual autobiography. Subtitled, 'The romance of faith', Chesterton declares that people need a life of 'practical romance; the combination of something that is strange with something that is secure.'
Only the Bible has sold more copies than The Pilgrim's Progress. Bunyan's classic, first published in 1678, quickly became a hallmark among English readers and beyond, enduring down to our day as a unique resource for spiritual edification. This new edition from Desiring God contains Bunyan's original version, unabridged and designed for modern readability. Featuring an introduction by John Piper to Bunyan's life and ministry, as well as a foreword by Leland Ryken, this volume also includes a preface by John Newton written in 1776, which was nearly lost in history until recently rediscovered.
Links To Episcopal Resources To Aid With Worship
Bible Gateway: A useful site to quickly search the bible in multiple translations. We commonly use the New Revised Standard Version (NRSV).
The Lectionary Page: This website allows you to view the Episcopal Liturgical Calendar, and has links to lessons for Sundays and Holy Days.
The Book of Common Prayer Online: This resource allows you to view the Book of Common Prayer online in its entirety.
Links to Episcopal Education
The Episcopal Church: The official page for the Episcopal Church. A great resource to learn about the church as a whole.
Education For Ministry: A four-year distance learning certificate program through Sewanee: The University of the South.
Forward Movement: This site offers books and other media for Christian education.
THE DIOCESE OF WEST MISSOURI
Links To Information About The Diocese of West Missouri
The Diocese of West Missouri: The official homepage of The Diocese of West Missouri.
Map of Episcopal Churches: A map showing the locations of churches within the Diocese of West Missouri.
eSpirit: The electronic newsletter of The Diocese of West Missouri; it provides a short and easy to read digest of up-to-the-minute news, events, and general information. It is emailed twice monthly.
Spirit: Another newsletter of The Diocese of West Missouri; it features longer articles which explore and reflect on the interests of Episcopalians in West Missouri. It includes more detailed reporting on news and events and is emailed quarterly.